Mary Fisher, Dardanelle Post Dispatch editor, passes away
Sep 1, 2023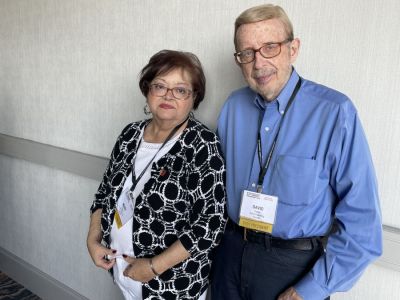 Mary Mae (Fowler) Fisher, of Danville, Arkansas, went to be with the Lord on Saturday, July 22nd.
Mary was a woman of two great passions. The first was for her family, and the second was for serving every community she inserted herself into.
Mary was the daughter of the late Robert and Maxine Fowler of Belleville. She was preceded in death by her brother, Wayne Fowler. She is survived by her husband, David W. Fisher, and her son, David B. Fisher, and his wife, Rachael Fisher, along with two sisters, Jan Huntley, Ann Bryant and her husband, Jim, and a brother, Tom Fowler and his wife, Lio, as well as three granddaughters, Ally Fisher, Ella Fisher and Livi Nachtigal and one grandson, Kenton Nachtigal. Mary also had two nieces, Billie Taylor and Bobbie Crespin, and a nephew, Robert Fowler. Her uncle, Ricky Woolfolk and cousins live in Missouri.
Mary also has a large host of extended family and relatives all over Yell County (Fowlers).
Mary was a longtime community leader in not only Yell County, but around the state of Arkansas and in many national organizations, as well.
For over 50 years, Mary was an editor and co-publisher of the Yell County Record, as well as several other weekly newspapers.
In 2014, Mary became the editor and publisher of the Dardanelle Post Dispatch, one of the oldest continuous weekly newspapers (1853) west of the Mississippi.
She devoted herself then to the Dardanelle Rotary Club, Dardanelle Chamber of Commerce and the Dardanelle community after becoming editor and publisher (but never leaving her commitments and devotion to Danville, Belleville and the southern side of the county.)
Mary had a long history of community service. At the top of her list was her Heart for Scouting, beginning with Girl Scouts in the '70s followed by being volunteered in the early '80s to become a Cub Scout Leader by David (Davy) when he was only 7 years old. Thus began a lifetime of service to the Boy Scouts for over 40 years as a leader and trainer and friend to so many. She received the second highest award (called the Silver Antelope) given by the National Boy Scouts for her work in training Scout Leaders and Boy Scouts.
She was the first woman Scoutmaster in Westark Area Council of the extended training of adult leaders in Boy Scouts, called Wood Badge. She was inducted into and received the highest rank of Vigil in the Order of the Arrow, a society of honor campers in the Boy Scouts. Mary was also Scoutmaster of the NJLT (extended scout course to train boy leaders).
Mary served as council vice president of the Boy Scouts of America for the Westark Area Council for over 15 years.
She went on to become the training chairman of the Southern Region of Boy Scouts (consisting of 14 states) and served on numerous scout boards, not to mention being invited on numerous occasions to teach in the training center at Philmont Scout Ranch in New Mexico.
Perhaps her greatest joy in scouting was attending eight National Boy Scout Jamborees (held every four years), where she co-chaired the Hometown News division.
Mary loved Scouting, especially training and the opportunity it afforded her to positively affect the lives of thousands of young men to help them to become good citizens and future leaders.
Mary helped her husband, David, for over 15 years in the Danville Boy Scouts, where they had 10 boys make Eagle Scout, the highest rank a Boy Scout can achieve.
In a close race with the Scouts was Mary's passion for the many wonderful women she met through EH (Extension Homemakers). She served as president of Spring Creek EH Club and the county council). Through EH, she served as president of the Arkansas Extension Homemakers while remarkably and simultaneously serving as the president of the Arkansas Press Association in 2014.
Mary went on to chair a national EH Homemakers event at Springdale in 2019 (NVON), drawing homemakers from many states across the nation.
In addition to these activities, in her spare time, Mary worked with the Danville Chamber of Commerce, Yell County Fair Board, World War II Memorial Committee, Southgate Committee to Mt. Magazine, the Arkansas Press Association, Belleville Reunion (longtime chairman) and previously served as president of the Danville B&PW, as well as the Danville Jaycettes.
She also served on the Danville School Board for several years.
Mary and Johnny Chambers reorganized the Danville Chamber of Commerce over 20 years ago. She became the first chapter president (for the first two years).
In addition to the other two previously mentioned organizations, she also was president of the Arkansas Jaycettes in the 1970s (and went on to become the first U.S. Jaycette secretary).
She has served on the National Newspaper Association Foundation Board for several years, as well as the Arkansas Press Foundation Board.
Mary and David have been longtime members of Fellowship Bible Church in Russellville and of the Crow Mountain Bible Study group. Fellowship Bible Church Pastor Jeff Wachalshour will conduct the service.
Visitation was July 26 at Cornwell Funeral Home.
Burial was a private graveside service the morning of July 27 at the Earl Ladd Cemetery.
Family and friends were invited to celebrate her life at a memorial service held at the Danville High School Ted Lyons Gymnasium on Thursday, July 27.
Services were conducted by Cornwell Funeral Home.
In lieu of flowers, memorial donations may be made in Mary's honor to the following organizations:
Spring Creek Extension Homemakers Club, c/o Peggy Mobley, P.O. Box 114, Belleville, AR 72824
Danville BSA, Troop 170 Camp Fund, P.O. Box 189, Danville, AR 72833
Or to your favorite charity.
Arrangements are by Cornwell Funeral Home Danville. Online guestbook and condolences at https://bit.ly/3OMkMS0