Are you overlooking the impulse-buy of newspapers?
Feb 1, 2023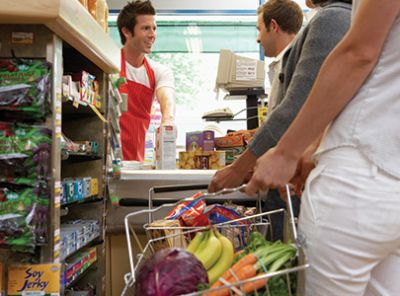 LEWIS FLOYD
President | Business Valuation Consulting LLC & Affiliates
As an industry, we are not maximizing the impulse appeal of our newspapers. In the best of all worlds, our newspapers are in retail stores in front of the checkout or close to it. The best stores are supermarkets and C-stores (convenience store, convenience shop, corner store or corner shop), followed by drug stores, then our coin racks.
LET'S START WITH SUPERMARKETS
Our industry does not always think in percentages, often presenting our products as earning a specified cash amount instead of a percentage. Our potential retail partners think in percentage, and 25% of a sales price of $3 means more to them than $.75 per paper.
The space we want to use is sought after by other vendors, especially candy. Grocery stores have an average profit of 3% or less, so impulse items with 25% or more profit usually get preferred locations. The usual profit to the store on candy is 25% to 30%. Our advantage, NO SPOILAGE.
Recently working with a local weekly paper, we moved some single copy racks to better locations; in one supermarket, we moved from the exit door (after–thought purchase, if at all) to as you entered to start shopping. The store went from around 30 copies a week to now close to 120 a week!
C-STORES AND DRUG STORES
While not much different, in most cases, you will be limited to one rack. The key continues to be having our newspapers located at the checkout. While these store locations often have a higher markup, they lack volume on most items, so we should be a top sales item in these stores, and 25% profit is still good for them. With the same weekly, when racks were moved around the register, the number of copies went up by 30% to 150% — depending on how "hidden" the racks had been.
OUR COIN RACKS
We seem to treat vending racks like they are destination sale locations, and they are not! If our rack's appearance is dull, rusty or dusty, and the plastic window is cloudy, "they say walk on by."
Racks offer impulse buys if they are clean, the window is clear and the location is in a traffic flow that provides easy viewing of the window and space for a buyer to stop and make a purchase.
THE BIG QUESTION
Are we doing all we can to maximize impulse sales if we are doing all of the above? In my opinion, NO! Impulse sales are driven by quick, rapid glances at products that catch the eye, with short comments that beg you to read the article — so in your opinion, do we do that best? I believe in order to maximize impulse sales, we should rethink "above the fold." My favorite would be to put two–four photos above the fold with a brief one–line statement that begs you to buy the paper and read the story.
Lewis Floyd if the president of Business Valuation Consulting LLC & Affiliates. Email him at busvalconsulting@gmail.com