Capture new readers with word games about autumn leaves
Sep 13, 2023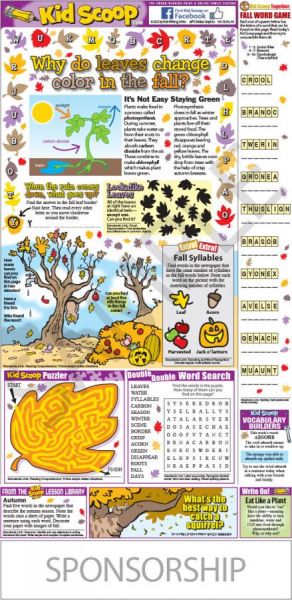 What's the best way to catch a squirrel? Find the answer on this lively Kid Scoop page.
With all the necessary hard news filling your columns, here's Kid Scoop content to bring fun into your newspaper for the whole family.
As autumn leaves blaze with colors, this Kid Scoop page explains in simple science words just why the colorful display happens every year. Puzzles and word games about the changing season engage children and adults in family learning. Take a look!
This Kid Scoop page "secretly" teaches spelling, reading comprehension, grammar, and visual discrimination — it's the Kid Scoop way of engaging young learners who may need to catch up from learning loss during the pandemic. Have your advertising staff show this page to education-minded sponsors in your community—retailers who sell to families, non-profit service groups and corporations with a non-profit "wing." Kid Scoop offers fun pages every week and every season of the year. Many free marketing resources come with Kid Scoop.
Capture new readers — single-copy buyers and new subscribers — with Kid Scoop published in your newspaper. If you have a school-delivery program, educators can use these pages in their classrooms. (We offer free additional teaching resources as well.) Teachers will thank you for helping children continue to read after the school bell rings. Capture newspaper readers today and into the future!
To order this Kid Scoop page, contact Dan "Patio" Dalton at 909-793-9890 or patiodan@kidscoop.com.